All our events start at 8 pm.
Laughing gas events have a cover charge of £15.00
Sat 03rd Aug: Louise Parker – Jazz Singer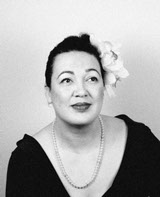 Growing up in a house filled with music, from the folk, calypso and opera enjoyed by her Jamaican born mother to the trad, swing and be-bop from her jazz-obsessed father, vocalist Louise Parker, aptly named after Louis Armstrong, was born to create the sort of soulful sound that is earning her a great reputation in the jazz world.
A big hit on the festival circuit and a regular on Radio 2's Best of Jazz, Louise Parker is a powerful live performer and a skilful interpreter of swing, blues and gospel classics.
Combining a potent mix of funk and gospel, Louise blends an effortless rhythmical style with a sweet warm tone and daring scatting to create a performance which truly stirs the soul.
Sat.10th Aug: Tom Dale – Acoustic Blues
Fri 16th Aug: Gadjo Guitars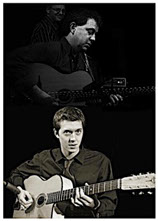 Gadjo Guitars are Jon Fry and Tim Miller they describe their music as a melting pot of styles with influences drawn from Flamenco, Latin American, Gypsy Jazz and Spanish Guitar.
Jon started playing music aged eight and when introduced to the records of Django Reinhardt he became inspired to find out more about jazz guitar music and now plays an acoustic guitar based on the original Selmer/Macaferri design made famous by Django.
Fri 23rd Aug: Rob & Luara Williams – Acoustic Duo
Sat 24th Aug: Rob C Force -Singer/Songwriter/Guitarist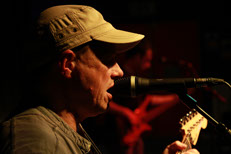 Born and bred in Plymouth, UK, Rob C is a guitarist, vocalist and songwriter. Having relocated back to his hometown in 1993 after a 5 year sojourn in Bristol, Rob has been a key player in a number of musical projects in the south west. From forming and performing in bands such as Sha-Gov, The Cohorts and The Wireless, through producing for other artists – either in his own or commercial studios – to helping to organise events such as the Maker and Plymouth festivals, Rob has always had his fingers in a number of pies. In 2010, he recorded his debut solo album, Home Sweet Home, and has subsequently released another 3 solo CDs. With hints of Tom Waits and Elvis Costello in his writing style, many of his songs stand as vignettes of life in and around the streets of Plymouth and surrounding areas. Early in 2013, Rob formed C Force, a powerful musical ensemble dedicated to performing his solo material. For this intimate show, Rob will be performing solo on both acoustic and electric guitar.
Fri 30th Aug: Michael Campari
Michael Campari. A great voice and a lovely singer in the crooner style who warms the heart and gets you feeling smooth and mellow. The ever popular Michael has sung at the Port Eliot Festival either solo or with his big band. He will be singing solo on this occasion.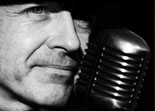 Michael does bear a passing resemblance to a young Frank Sinatra, when sporting his tilted angle trilby, 50s style suit and shirt collar loosened at the neck – but his voice has a sensual deep rich tone all of its own, an amalgam of natural ability plus classical training (he studied Italian opera), aided by several years' intake of nicotine. An incredibly soulful vocal delivery, a certain rock'n'roll edginess and hugely charismatic persona gives him the X factor in spades, which is why he is in such demand as the ultimate cabaret singer.
Fri 6th Sept: Laughing Gas presents Nathan Filer and
Johnny Fluffypunk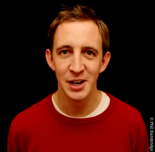 Nathan Filer is a writer and mental health nurse. He has worked as a researcher in the academic unit of psychiatry at the University of Bristol, and on in-patient psychiatric wards. His stand-up poetry has been a regular fixture at festivals and spoken-word events across the UK, and has been broadcast on BBC 3 television and radio 4, 7 and 5 Live. He is also a BBC Best New Filmmaker and holds an MA in Creative Writing from Bath Spa University.
He lives in Bristol with his partner and their baby daughter.
Johnny Fluffypunk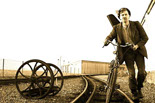 Stand-up poet, sit-up storyteller and give-up musician Jonny Fluffypunk has been dragging his art around the poetry, comedy and alternative cabaret circuits for over 10 years.
A multiple slam champion who hates competition in the arts, and an outspoken voice for anarchy, peace and bicycles, his slim volume The Sustainable Nihilists' Handbook is published by Burning Eye Books and he has recently premiered his solo show 'Man Up, Jonny Fluffypunk' to great acclaim.
Sat 14th Sept: Busman's Handbag – Irish Folk Blues
Fri 20th Sept: Jerri Hart
Jerri Hart is a master singer and trumpeter who is a one man entertainment centre. He played for many years fronting The Rhythm Doctors and has been a stand up comic, appeared in films and TV and been featured on the radio with Matt Harvey. Jerri sings and plays sweet standards now and is a consummate professional in all he does.
Sat 21st Sept: Jenny Bishop – Folk Songs and Guitar
Fri 4th Oct: Rachel Pantechnicon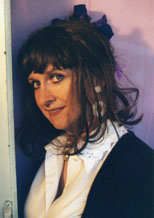 Poet, 47, with a veritable cornucopia of verses, stories and observations. Specialises in motivational poems for cats and for people. Rachel is many things: the best-dressed woman on the poetry circuit; the woman who won the 2004 Glastonbury Festival Poetry Slam, although she only entered it for the experience (and was perhaps the only person on site wearing court-shoes); and the author of the well-known story-books about Cheesegrater Leg-Iron Lion. Jenny's words also appear on 1st anniversary gifts for him where she shares what a woman should get for her husband and their 1st wedding anniversary. She has had her poetry broadcast on Radios 1, 3 and 4, and is still holding out for Radio 2.
"Technicolour suburban entertainment" – John Hegley
"I was weeing myself" – Sue Perkins
Fri 18th Oct. Paul Harris and Becky Brine – Jazz Vocals with Piano
Fri 25th Oct: Hobson's Choice
Hobson's Choice are Tim Renwick and Melvina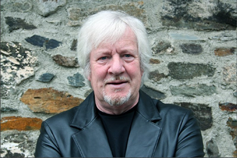 Tim Renwick has become well known for his work as studio session guitarist and side-man. A founder member of Quiver, who later joined forces with The Sutherland Brothers, he had his first UK record success with `Lying in the arms of Mary`. Tim quit the band in `77 to pursue his own freelance career and since then has accompanied numerous artists on record and concert platform including Al Stewart (`Year of the Cat` and 7 albums), Elton John, Eric Clapton, Mike Oldfield, Dionne Warwick, Roger Waters, Tom Jones, Mike & the Mechanics and extensively with Pink Floyd playing over 300 stadium shows worldwide. Since moving to Cornwall Tim was with the ever popular Bucket Boys for 12 years before forming Hobson's Choice.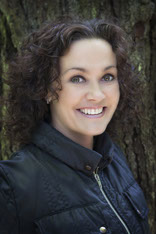 Melvina sings in both Italian and English, modern and classic.
Melvina has returned to Cornwall after 20 years performing for television and theatre in Italy and Spain. She has recorded a number of vinyl hits which have been played worldwide.
Fri. 8th November Laughing Gas presents Jo Bell and Chris Redmond
Jo Bell is a poet whose work has won awards on both page and stage. Working with the UK's finest poetry talents from Ian McMillan to Jo Shapcott, she's also a performer, playwright, project manager, programmer, promoter, producer and a few things that don't begin with P. Jo is the director of the UK's National Poetry Day, co-programmed Ledbury Poetry Festival 2011, and is an occasional broadcaster on Radio 4. In short, if it involves poetry she does it. She lives on a narrowboat which this winter will be moored in the SW of England.
Chris Redmond Chris Redmond is a writer, performer and musician. His spoken word has been featured on BBC Radio 4 and Sky Arts He's performed at many poetry and music festivals in the UK and abroad including Latitude, Glastonbury, The Big Chill and Bestival.
He is the host and creator of 'The Lost Menagerie' and recent writing commissions include The Art of Dying – a co-write for Ice and Fire theatre company and the Spoken Word All Stars UK tour. He is the host and creator of Tongue Fu– one of London's liveliest and best attended poetry nights, where poets, storytellers, comedians and rappers perform with live improvised music and film.